EUCON Control Surface Support for SONAR X1
Last updated on 3/22/2016
Avid and Cakewalk have teamed together to update the EUCON Control Surface support for SONAR X1 (32-bit and 64-bit).

Requirements:
System Requirements for EuControl:
Windows 7 Home Premium, Professional, or Ultimate (32- or 64-bit)
1 GHz or faster 32-bit (x86) or 64-bit (x64) processor
1 GB RAM (32-bit) / 2 GB RAM (64-bit)
500 MB free hard disk space
1 available 10/100 Base-T Ethernet port*
* Ethernet hub or switch required to connect additional units or to connect to a network

EUCON Hardware Support:

http://euphonix.avid.com/artist/ux/euphonix/my-artist-series.php

Setup Instructions:

1. Download and install the EUCON EuControl for Windows driver and control panel.
a. NOTE: You must install the EUCON drivers before installing the SONAR EUCON Control Surface
2. Download and install the SONAR EUCON Control Surface Installer [located at the bottom of this page]
a. 32-bit and 64-bit versions of the control surface are included in this installer. Be sure to select the version appropriate for your version of SONAR
3. Connect your EUCON control surface to your computer and run SONAR
4. In SONAR, go to Edit > Preferences > Control Surfaces
a. Click on the "Add new controller/surface" button
b. Select "Eucon Controller" from the drop down list of Controller/Surface and click OK
i. NOTE: you do not need to select an Input or Output port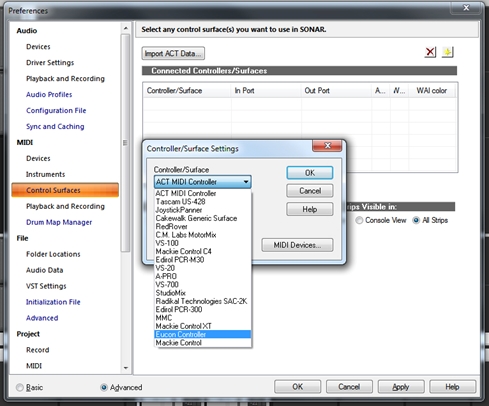 Note: After you click OK you may see the following screen: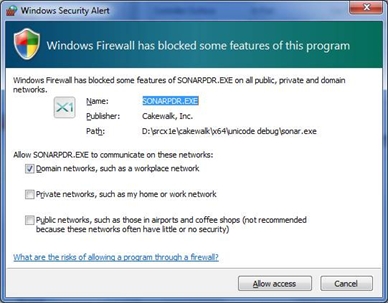 Click Allow access to enable EUCON to communicate with your PC via Ethernet. You will only need to do this once.

5. Click Apply and "OK to close the Preferences dialogue

Download the SONAR EUCON Control Surface Installer (Approx. 16 MB)