I can't print from the Staff View. The File | Print option is grayed-out.
Last updated on 3/22/2016
The print feature is not available when the Staff View is floating or tabbed. You can disable floating by clicking the icon on the top-left corner of the Staff View window and choosing "Disable Floating" from the menu.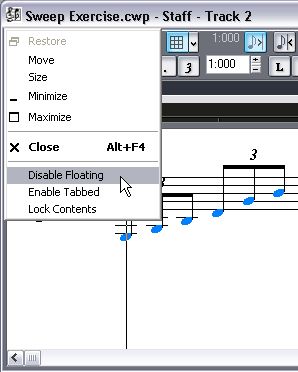 You can disable tabbing by going to the View menu and un-checking "Enable Tabbing For Open Views".
If you still cannot Print from the Staff view, make sure it is in the foreground, then go to the File menu and click on the 3 small arrows at the bottom of the menu. This should expose a sub menu with the Printing options. After following these steps the print option should be available.